Dé Regelmeter voor jagende studenten (18+)
Vergeet alle natuurwetten! Deze wet vormt de basis van het dagelijks leven, zoals Newton nooit had durven dromen. Niemand houdt van nietszeggende en onnodige berekeningen. Een veel gebruikte berekening is bijvoorbeeld: [(Leeftijd / 2) + 7]. Maar hoe accuraat is deze berekening nou echt? Nou, wij kunnen je vertellen dat dat vies tegenvalt. Veel belangrijke aspecten worden namelijk niet meegenomen, maar niet getreurd! Na jaren ervaring en testen, presenteren wij:
De eerste wet van de Hertjes!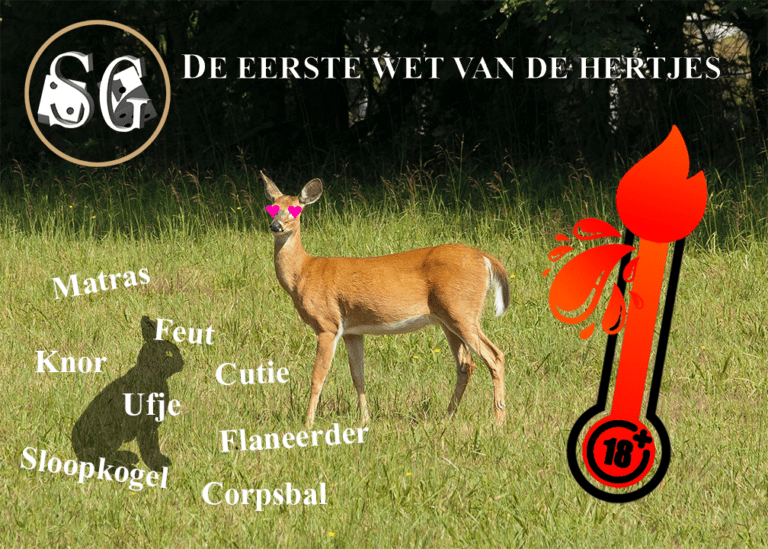 Vanaf nu hoef je niet langer te twijfelen over je onenightstand, twarrel of prela. Check gewoon deze wet! Hierin worden leeftijdsverschillen, eigenschappen en zelfs je pandapunten meegenomen voor een uitermate accurate benadering of je je crush moet doorzetten, het bij één keer moet laten of dat je gauw een andere prooi moet vinden.
Louter voor mannen? Nee, zeker niet! De 19e eeuw hebben we al een tijdje achter ons gelaten, dus mag iedereen genieten van het studentenleven. Maak de keuze of je op herten (vrouwen) of haasjes (mannen) jaagt en check je prooi! Natuurlijk is iedereen wel zelf verantwoordelijk voor zijn eigen daden én reputatie ;).
Zelfs met mobiele functie! Er is natuurlijk niks vervelender dan sjouwen met een dikke laptop. Daar komt nog bij dat je altijd paraat moet staan om hertjes te checken. Daarom is het zó ontzettend handig om de mobiele versie te gebruiken! Klik in de app gewoon op de GoudGroene knop (rechtsboven in het scherm).